16 total views, 1 views today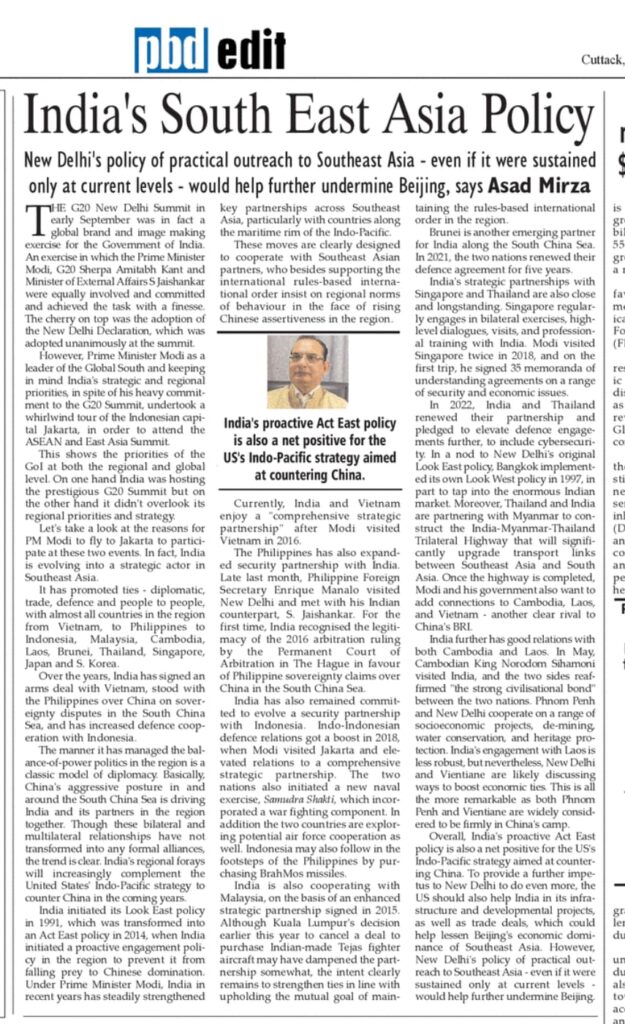 Earlier this month, the diplomatic bustle at the national level was focussed on G20 Summit. However, in addition to that the prime minister also focussed on India's Look East policy and participated at ASEAN and East Asia Summit in Indonesia, focussing on ways to counter China's regional dominance.
The G20 New Delhi Summit in early September was in fact a global brand and image making exercise for the Government of India. An exercise in which the Prime Minister Modi, G20 Sherpa Amitabh Kant and Minister of External Affairs S Jaishankar were equally involved and committed and achieved the task with a finesse. The cherry on top was the adoption of the New Delhi Declaration, which was adopted unanimously at the summit.
However, Prime Minister Modi as a leader of the Global South and keeping in mind India's strategic and regional priorities, in spite of his heavy commitment to the G20 Summit, undertook a whirlwind tour of the Indonesian capital Jakarta, in order to attend the ASEAN and East Asia Summit.
This shows the priorities of the GoI at both the regional and global level. On one hand India was hosting the prestigious G20 Summit but on the other hand it didn't overlooked its regional priorities and strategy.
Let's take a look at the reasons for PM Modi to fly to Jakarta to participate at these two events. In fact, India is evolving into a strategic actor in Southeast Asia.
It has promoted ties – diplomatic, trade, defence and people to people, with almost all countries in the region from Vietnam, to Philippines to Indonesia, Malaysia, Cambodia, Laos, Brunei, Thailand, Singapore, Japan and S. Korea.
Over the years, India has signed an arms deal with Vietnam, stood with Philippines over China on sovereignty disputes in the South China Sea, and has increased defence cooperation with Indonesia.
The manner it has managed the balance-of-power politics in the region is a classic model of diplomacy. Basically, China's aggressive posture in and around the South China Sea is driving India and its partners in the region together. Though these bilateral and multilateral relationships have not transformed into any formal alliances, but the trend is clear. India's regional forays will increasingly complement the United States' Indo-Pacific strategy to counter China in the coming years.
India initiated its Look East policy in 1991, which was transformed into an Act East policy in 2014, when India initiated a proactive engagement policy in the region to prevent it from falling a prey to the Chinese domination. Under Prime Minister Modi, India in recent years has steadily strengthened key partnerships across Southeast Asia, particularly with countries along the maritime rim of the Indo-Pacific.
These moves are clearly designed to cooperate with Southeast Asian partners, who besides supporting the international rules-based international order insist on regional norms of behaviour in the face of rising Chinese assertiveness in the region.
Currently, India and Vietnam enjoy a "comprehensive strategic partnership" after Modi visited Vietnam in 2016. In contrast, the United States is only a "comprehensive partner" for Vietnam, two levels below India's status. Washington has struggled to raise the partnership and President Biden's recent visit to Vietnam was part of this endeavour.
The Philippines, an old and U.S.'s treaty ally, has also expanded security partnership with India. Late last month, Philippine Foreign Secretary Enrique Manalo visited New Delhi and met with his Indian counterpart, S. Jaishankar. For the first time, India recognised the legitimacy of the 2016 arbitration ruling by the Permanent Court of Arbitration in The Hague in favour of Philippine sovereignty claims over China in the South China Sea.
India has also remained committed to evolve a security partnership with Indonesia. Indo-Indonesian defence relations got a boost in 2018, when Modi visited Jakarta and elevated relations to a comprehensive strategic partnership. The two nations also initiated a new naval exercise, Samudra Shakti, which incorporated a warfighting component. In addition the two countries are exploring potential air force cooperation as well. Indonesia may also follow in the footsteps of the Philippines by purchasing BrahMos missiles.
India is also cooperating with Malaysia, on the basis of an enhanced strategic partnership signed in 2015. Although Kuala Lumpur's decision earlier this year to cancel a deal to purchase Indian-made Tejas fighter aircraft may have dampened the partnership somewhat, the intent clearly remains to strengthen ties in line with upholding the mutual goal of maintaining the rules-based international order in the region – especially internationally recognised maritime borders and freedom of navigation, neither of which Beijing accepts.
Brunei is another emerging partner for India along the South China Sea. In 2021, the two nations renewed their defence agreement for five years, and they regularly engage in joint exercises, port visits by navy and coast guard ships, and official defence exchanges.
India's strategic partnerships with Singapore and Thailand are also close and longstanding. Singapore regularly engages in bilateral exercises, high-level dialogues, visits, and professional training with India. Modi visited Singapore twice in 2018, and on the first trip, he signed 35 memoranda of understanding agreements on a range of security and economic issues.
In 2022, India and Thailand renewed their partnership and pledged to elevate defence engagements further, to include cybersecurity. Perhaps of greater importance is the economic side of their relationship. In a nod to New Delhi's original Look East policy, Bangkok implemented its own Look West policy in 1997, in part to tap into the enormous Indian market. Moreover, Thailand and India are partnering with Myanmar to construct the India-Myanmar-Thailand Trilateral Highway that will significantly upgrade transport links between Southeast Asia and South Asia. Once the highway is completed, Modi and his government also want to add connections to Cambodia, Laos, and Vietnam – another clear rival to China's BRI.
India further has good relations with both Cambodia and Laos. In May, Cambodian King Norodom Sihamoni visited India, and the two sides reaffirmed "the strong civilisational bond" between the two nations. Phnom Penh and New Delhi cooperate on a range of socioeconomic projects, de-mining, water conservation, and heritage protection. India's engagement with Laos is less robust, but nevertheless, New Delhi and Vientiane are likely discussing ways to boost economic ties. This is all the more remarkable as both Phnom Penh and Vientiane are widely considered to be firmly in China's camp.
Overall, India's proactive Act East policy is also a net positive for the U.S.'s Indo-Pacific strategy aimed at countering China. To provide a further impetus to New Delhi to do even more, the U.S. should also help India in its infrastructure and developmental projects, as well as trade deals, which could help lessen Beijing's economic dominance of Southeast Asia. However, New Delhi's policy of practical outreach to Southeast Asia – even if it were sustained only at current levels – would help further undermine Beijing.